Skip to Main Content
It looks like you're using Internet Explorer 11 or older. This website works best with modern browsers such as the latest versions of Chrome, Firefox, Safari, and Edge. If you continue with this browser, you may see unexpected results.
More Information
These guides introduce selected general legal reference sources on International Law in the Chinese University of Hong Kong Library.
General Links
Bibliography Philosophy of Law

Bibliographic database compiled by the Peace Palace Library, The Hague.

Business & Human Rights Resource Centre

The website covers the social and environmental impacts of over 5000 companies, operating in over 180 countries. Taking international human rights standards as its starting point, topics covered include discrimination, environment, poverty and development, labour, access to medicines, health and safety, security, trade.

C-SPAN Video Library

The C-SPAN Archives records, indexes, and archives all C-SPAN (US Congress) programming for historical, educational, research, and archival uses. Every C-SPAN program aired since 1987, now totaling over 200,000 hours, is contained in the C-SPAN Archives and immediately accessible through the database and electronic archival systems developed and maintained by the C-SPAN Archives.

Center for Transnational Law

Cologne University's Centre for Transnational law's website that is an online research and codification platform for transnational commercial law

Child Rights International Network (CRIN) Legal Database

This database contains instruments relevant to children's rights around the world, including laws, standards and summaries of court cases.

CityU - The International ADR (Alternative Dispute Resolution) Mooting Competition

This website contains ADR Moot videos from 2010-2014 and 2016. The International ADR Mooting Competition is an international mediation and arbitration competition that is open to all universities. It is conducted by City University of Hong Kong in association with the China International Economic and Trade Arbitration Commission (CIETAC), UNCITRAL - Regional Centre for Asia and the Pacific (RCAP) and Curtin Law School.

Commonwealth Legal Information Institute (CommonLII)

The Commonwealth Legal Information Institute (CommonLII) aims to provide one central Internet location from which it is possible to search - for free - core legal information from all Commonwealth countries.

Constitute

New constitutions are written every year. The people who write these important documents need to read and analyze texts from other places. Constitute offers access to the world's constitutions that users can systematically compare them across a broad set of topics - using a modern, clean interface.

Death Penalty Worldwide Database

The Death Penalty Worldwide website was created by Professor Sandra Babcock of the Center for International Human Rights at Northwestern Law School's Bluhm Legal Clinic, in partnership with the World Coalition Against the Death Penalty. The website and database are intended to fill a void in current information about the laws and practices relating to the application of the death penalty around the world.

Digest of United States Practice in International Law

The Office of the Legal Adviser publishes the annual Digest of United States Practice in International Law to provide the public with a historical record of the views and practice of the Government of the United States in public and private international law. Following a hiatus from 1989-1999, publication of the Digest recommenced with calendar year 2000. Since then, annual volumes for 2000 through 2010, a two-volume set covering 1991-1999, and a volume for 1989-1990 have been published on-line and in hard copy. A cumulative index for the years 1989-2008 was released in the spring of 2010. A brief history of the Digest and explanation of the current format of the book is provided in the Introduction to the Digest of United States Practice in International Law 2000. A supplemental note, dated October 1, 2010, provides updated information on Internet citations included in the Digest. Beginning with the 2011 Digest, the official version of the Digest is published exclusively online.

Eagle-i (Electronic Access to Global Legal Information)

Eagle-i (Electronic Access to Global Legal Information) is a free to use dedicated portal to high quality legal information sources on the Web - being developed by the Institute of Advanced Legal Studies(UK) as a national service for law. Eagle-i is designed to help legal researchers find relevant information on the Internet - providing insight into authoritative web resources and the most reliable sites and materials, through site profiles, content assessments and well-maintained dynamic links. Coverage includes: UK, European, Foreign, Comparative and International law.

GlobaLex

GlobaLex is an electronic legal publication dedicated to international and foreign law research and is published by the Hauser Global Law School Program at NYU School of Law. The information and articles published by GlobaLex represent both research and teaching resources used by legal academics, practitioners and other specialists around the world who are active either in foreign, international, and comparative law research or those focusing on their own domestic law.

Global Health and Human Rights Database

It has keyword search features, judgments by health topics, human rights, region, country, international bodies, and regional bodies.

Global Legal Monitor

The Global Legal Monitor is an online publication from the Law Library of Congress covering legal news and developments worldwide.

Global Trade Alert

Independent monitoring of policies that affect world trade.

IDATD

United Nations Integrated Database of Trade Disputes for Latin America and the Caribbean

International Comparative Legal Guides (ICLG)

The ICLG series provides current and practical comparative legal information on a range of practice areas. Our comprehensive guides follow a question and answer format to ensure thorough coverage of each topic within different legal systems worldwide. Each guide draws together the collective expertise of our contributors to provide a valuable and convenient resource, updated annually. All guides are available free to access.

International Economic Law and Policy Blog

This blog offers commentary on current developments and scholarship in the field of international economic law and policy. It was started in January 2006 by Joel Trachtman and WorldTradeLaw.net, and is managed by WorldTradeLaw.net

The International Justice Resource Center

Visitors will find explanations of the substance of human rights law and related areas of public international law, in addition to descriptions of the international and regional bodies that enforce these norms. The 'Research Aids' section of the site (under the "Learn and Research heading") explains and links to a variety of databases for researching primary and secondary sources of international human rights law, human rights conditions, and civil society actors. Other resources, such as the IJRC Interview Series (under the "Engage" heading) provide insights into the practice of international human rights law.

International Law - United Nations

Website of the United Nations on legal information related to international law

International Law Prof Blog

A member of the Law Professors Blogs Network

International Law Reporter Blog

Edited by Jacob Katz Cogan Professor of Law University of Cincinnati College of Law

International Law Students Association (ILSA)

The International Law Students Association is a non-profit association of students and lawyers who are dedicated to the promotion of international law. ILSA provides students with opportunities to study, research, and network in the international legal arena. The organization's activities include academic conferences, publications, the global coordination of student organizations, and the administration of the Philip C. Jessup International Law Moot Court Competition.

IntLawGrrls

Blog on international law topics

Jurist - World Legal News

Jurist is a Web-based legal news and real-time legal research service powered by a mostly-volunteer team of over 30 part-time law student reporters, editors and Web developers led by law professor Bernard Hibbitts at the University of Pittsburgh School of Law in Pittsburgh, Pennsylvania, USA.

Netherlands Institute of Human Rights

Netherlands Institute of Human Rights (SIM) at the University of Utrecht has several databases in which its collection of documentation is made accessible

Opinio Juris

Opinio Juris is a forum for informed discussion and lively debate about international law and international relations.

Organisation for Economic Co-operation and Development (OECD)

OECD brings together the governments of countries committed to democracy and the market economy from around the world to raise living standards and support sustainable growth.

Transparency International (TI)

Transparency International is a global network including more than 90 locally established national chapters and chapters-in-formation. These bodies fight corruption in the national arena in a number of ways. They bring together relevant players from government, civil society, business and the media to promote transparency in elections, in public administration, in procurement and in business.

United Nations Audiovisual Library of International Law

The Audiovisual Library is a unique, multimedia resource which provides the United Nations with the unprecedented capacity to provide high quality international law training and research materials to an unlimited number of recipients on a global level. The Audiovisual Library consists of three pillars:
(1) the Historic Archives containing documents and audiovisual materials relating to the negotiation and adoption of significant legal instruments under the auspices of the United Nations and related agencies since 1945;
(2) the Lecture featuring a permanent collection of lectures on virtually every subject of international law given by leading international law scholars and practitioners from different countries and legal systems; and
(3) the Library providing an on-line international law library with links to treaties, jurisprudence, publications and documents, scholarly writings and research guides. The Audiovisual Library is available to all individuals and institutions around the world for free via the Internet.

Universal Human Rights Index

The Index provides easy access to country-specific human rights information emanating from international human rights mechanisms in the United Nations system: the Treaty Bodies, the Special Procedures and the Universal Periodic Review (UPR). This tool aims at raising awareness of the human rights recommendations coming from these mechanisms and assisting governments, civil society organizations, national human rights institutions, and United Nations partners with their implementation. The Index allows the user to find out about human rights issues worldwide, and to see how the legal interpretation of international human rights law has evolved over the past ten years.

The University of Hong Kong Moot Court Videos

Includes the Jessup Moot, Red Cross International Humanitarian Law Moot and various other Moot videos.

World Law Bulletin (The Law Library of Congress)

The World Law Bulletin (2000-2006) is a monthly publication of the Directorate of Legal Research at the Law Library of Congress and provides updates on foreign law developments. In May 2006, the Law Library began publishing the Global Legal Monitor, which partially replicates the contents of the World Law Bulletin in publicly releasable form

World Legal Information Institute (WorldLII)

WorldLII provides a single search facility for databases located on the following Legal Information Institutes: AustLII; BAILII; CanLII; HKLII; LII (Cornell); and PacLII. WorldLII also includes as part of this searchable collection its own databases not found on other LIIs. These include databases of decisions of international Courts and Tribunals, databases from a number of Asian countries, and databases from South Africa (provided by Wits Law School).

World Legal Systems (JuriGlobe)

JuriGlobe is a research group formed by professors from the Faculty of Law of the University of Ottawa, which focuses on the development of a multilingual information data bank, accessible to all on the internet, containing general information relating to the different legal systems in the world, to the different official languages and to some of the most important international commercial conventions, as well as other multilateral commercial tools.

University of Texas Human Rights Documentation Initiative

The UT Libraries' Human Rights Documentation Initiative (HRDI) is committed to the long-term preservation of fragile and vulnerable records of human rights struggles worldwide, the promotion and secure usage of human rights archival materials, and the advancement of human rights research and advocacy around the world. The HRDI website highlights the following types of materials:

• Archived Web Resources

Websites, reports, audio, video, photographs on human rights struggles that are produced by individuals or small organizations who lack resources and opportunities for widespread distribution of their work

• UT Collections

Primary source, archival materials related to human rights

The History of International Law Timeline

This concise timeline maps the broad history of public international law with particular attention paid to the signing of major treaties, the foundation of fundamental institutions, the birth of major figures in international law and milestones in the development of some of the field's best-known doctrines.

Global Women's Leadership Project (GWLP)

The GWLP is one of the first efforts to map the panoramic sweep of laws that regulate a woman's role in the family and society, including laws governing property, inheritance, custody, guardianship, marriage, divorce, residence, citizenship, domicile, age of marriage, guardianship, female genital mutilation (FGM), "husband obedience " and sex-selective reproductive decisions. The first phase of the database covers the 54 African countries; the 19 civil law countries in Latin America and 32 states of Mexico; the 51 independent states of Europe; Israel; India; and Pakistan. The research on the Middle East is ongoing.

Introduction to Researching Foreign Law by Mary Rumsey

Mary Rumsey is the Reference & Instructional Services Librarian at Willamette University College of Law. She has a B.A. degree from the University of Wisconsin, a J.D. from the University of Chicago Law School, and a master's degree in library and information science from Dominican University. She co-authored International and Foreign Legal Research: A Coursebook, currently in its second edition.
Need Help?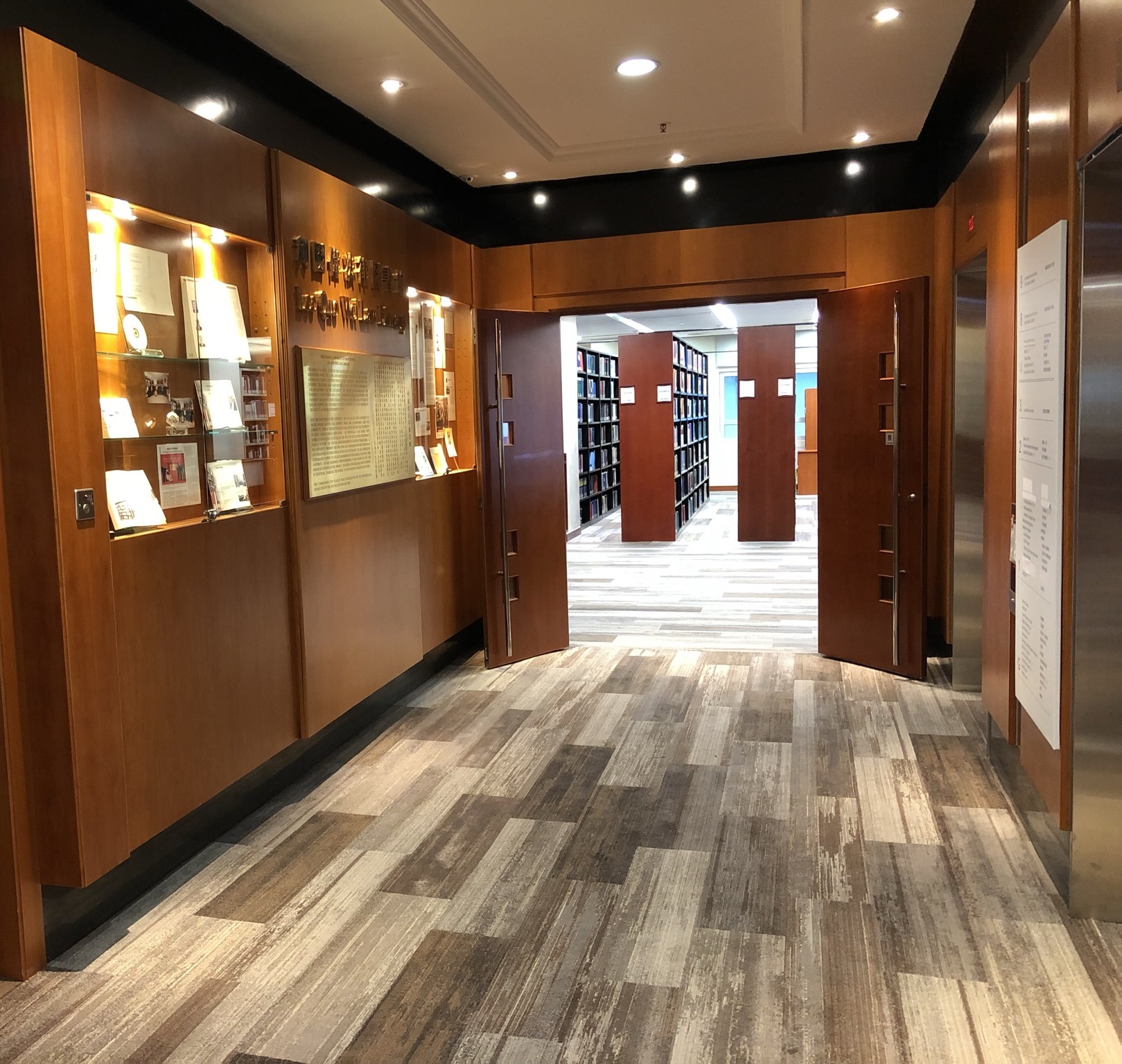 Make an appointment

for the Research Consultation Service (for postgraduate students and CUHK faculty members)

Phone us at:
● Lee Quo Wei Law Library: 3943 8641
● Legal Resources Centre: 3943 0927