Skip to main content
It looks like you're using Internet Explorer 11 or older. This website works best with modern browsers such as the latest versions of Chrome, Firefox, Safari, and Edge. If you continue with this browser, you may see unexpected results.
Journal Metrics in Web of Science
Journal Impact Factor (JIF)
The Journal Impact Factor is the average number of citations received by articles published by a journal. The calculation is based on citations received in the current year by articles published in the previous two years. JIF should not be used to compare journals in different disciplines. Below is an example of the JIF of the Journal of the Learning Sciences:
5-Year Journal Impact Factor
The 5-Year Journal Impact Factor is the same as Journal Impact Factor except that its calculation uses citation numbers in the past five years, not two as in the standard Journal Impact Factor.

Journal Citation Reports
The video will show you how to navigate Journal Citation Reports
Access Journal Citation Reports
Find the Journal Impact Factor of a journal and a journal profile
Compare the Journal Impact Factor of different journals
Find a journal list by research areas (Note: you may apply an open access filter if needed)
Find Journal Impact Factor in the Web of Science
Customize Indicators
A list of journals is ranked by Journal Impact Factor from the highest to lowest by default. You may choose other indicators to rank the journals.
Click Customize Indicators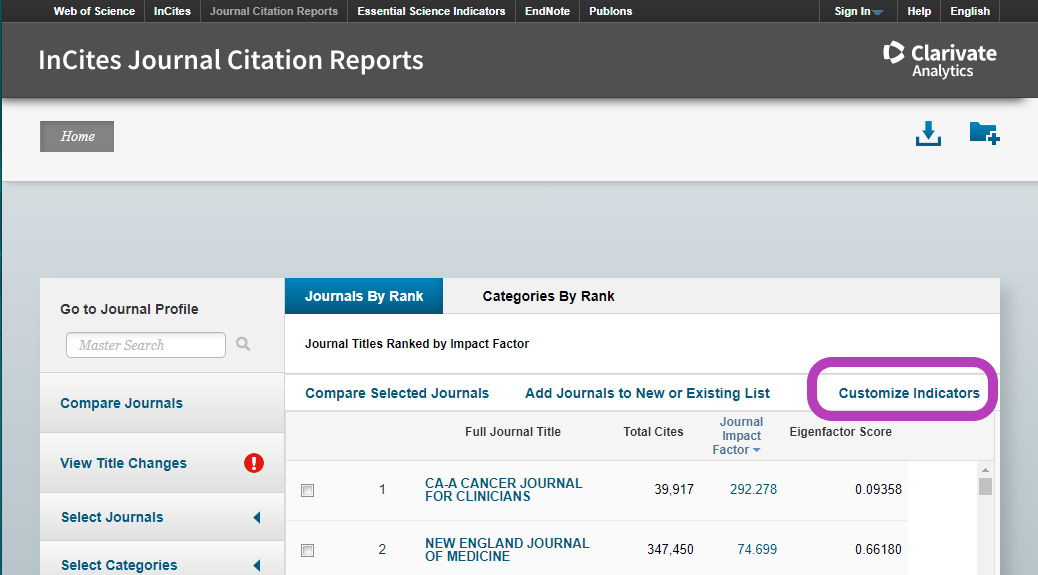 ---
Select the indicators of interest
---
Click Help and search the definition of indicators if needed
Web of Science (WoS)
Web of Science comprises multiple databases that provide citation data for many different research disciplines. The databases include:
Journal metrics published in Journal Citation Reports are calculated based on Web of Science citation data. Journal Impact Factor is only available for journals in the Science Citation Index Expanded and Social Sciences Citation Index.