Skip to Main Content
It looks like you're using Internet Explorer 11 or older. This website works best with modern browsers such as the latest versions of Chrome, Firefox, Safari, and Edge. If you continue with this browser, you may see unexpected results.
Major Online Resources
Research Smart Tutorial (http://smart.lib.cuhk.edu.hk/):
Learn how to properly and efficiently find, utilize, evaluate, legally share and create content using digital technologies.
Discipline-specific Library Research Skills
The following online courses are available from the CUHK Blackboard.
To Enroll:
Please login to the CUHK Blackboard;
Click on any course link(s) below to self-enroll.
To access the content:
Enroll in any course(s) listed below;
Login to your own Blackboard account to view the content of that specific course(s).
(Clicking on the links below repeatedly will only bring you to the self-enrollment screen again. You are only required to enroll once to view the content.)
LIB 101 Library Research Skills in Business
LIB 102 Library Research Skills in Education
LIB 103 Library Research Skills in Arts & Humanities
LIB 104 Library Research Skills in Engineering
LIB 105 Library Research Skills in Law
LIB 106 Library Research Skills in Social Science
LIB 107 Library Research Skills in Science
LIB 108 Library Research Skills in Medicine
Major Databases and Websites
Research Resources, The Chinese University of Hong Kong

The University is committed to encouraging faculty members and students to build research collaboration with a view to raising its international standing and advancing the frontiers of research and technology. This webpage serves as a one-stop shop to facilitate access to information on research funding opportunities, academic exchange schemes, research resources and services available, both within and beyond the University.
Librarian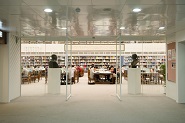 Learning Support
Need Help?
Make an appointment

for the Research Consultation Service (for postgraduate students and CUHK faculty members)

Phone us at 3943 7305

Send an email to library@cuhk.edu.hk

WhatsApp us at 5578 8898; 9am - 5pm (Mon-Fri)