Skip to Main Content
It looks like you're using Internet Explorer 11 or older. This website works best with modern browsers such as the latest versions of Chrome, Firefox, Safari, and Edge. If you continue with this browser, you may see unexpected results.
CUHK OA Publications
CUHK is committed to open access as a means of broadening access to scholarly materials. The percentage of Gold OA publications by CUHK researchers has increased from 5% to 28% during the period 2010-2020.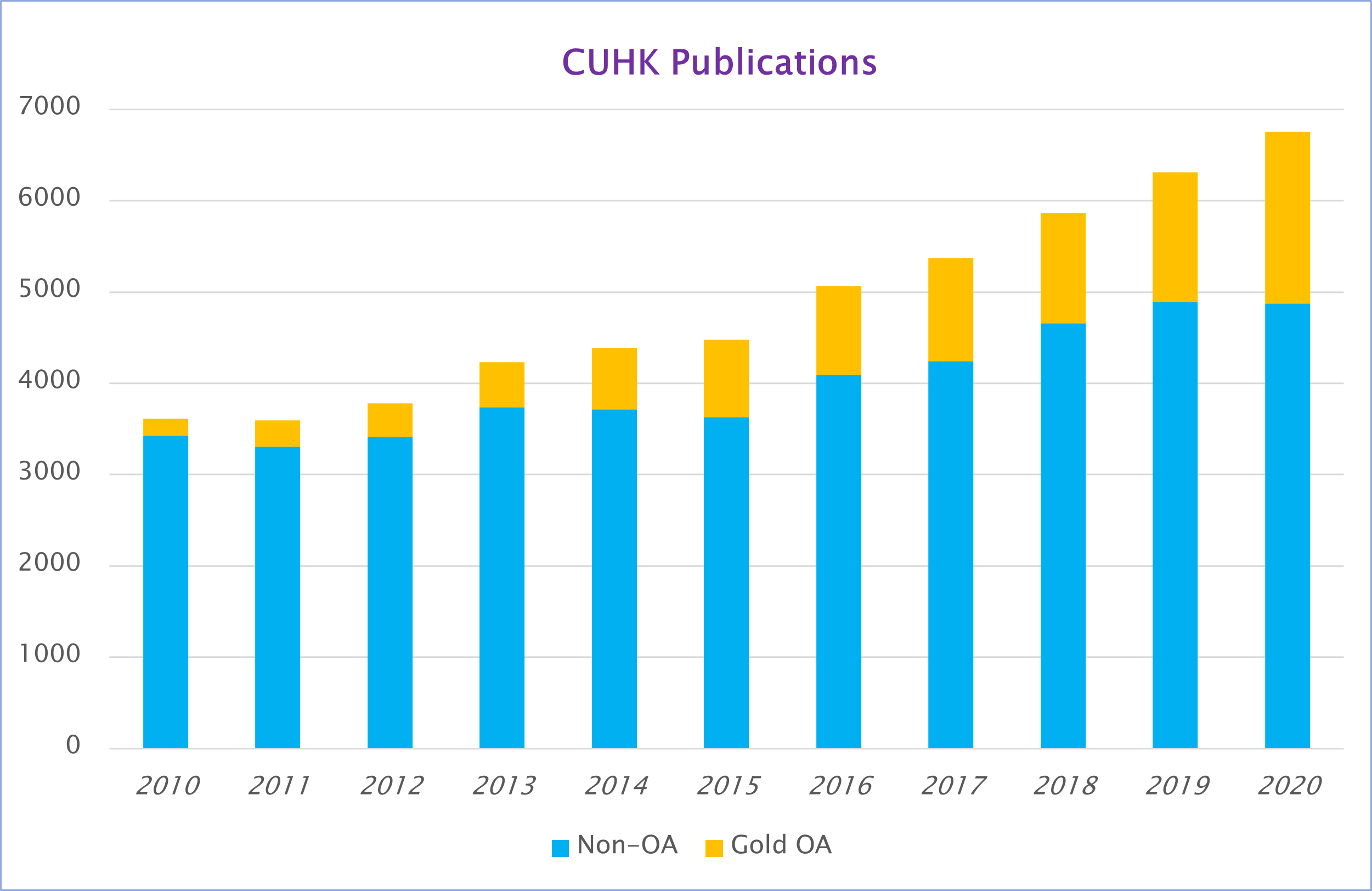 Source:InCites
Things to consider when choosing Open Access Journals
When you are looking for OA journals to publish your research, please evaluate the quality of the journals and avoid predatory journals. As OA publishing becomes more common, there are many high-quality OA journals available in different subject areas.
Predatory journals are not legitimate academic journals and do not provide a peer-review process to evaluate and improve the quality of manuscripts. They publish whatever they receive and charge authors publication fees merely for profits.
To choose legitimate OA journals, you may consider the following points:
Is the journal indexed in established databases such as Web of Science and Scopus, or the ones in your subject area?
Does the journal provide a Digital Object Identifier (DOI) for all articles?
Does the journal have an International Standard Serial Number (ISSN)?
Does the journal clearly state the OA fees and licenses?
Is the journal affiliated with a reputable research institute or scientific society?
Are the editorial members well-known researchers or affiliated with reputable institutions?
Is the publisher well known in your research field?
You may also visit Think. Check. Submit. for more tools and resources on choosing journals.
Adapted from Quality issues concerning open access journals by Open Access.nl
Finding Open Access Journals and Books
Research Data
If you want to deposit your research data for Open Access, please refer to the Dataset Deposit Guide.
Need Help?
| | |
| --- | --- |
| | Make an appointment for the Research Consultation Service (for postgraduate students and CUHK faculty members) |
| | WhatsApp us at 5578 8898; 9am - 5pm (Mon-Fri) |
| | Send an email to research@lib.cuhk.edu.hk |
| | Phone us at 3943 7305 |