JustisOne has the most comprehensive collection of common law cases from 1163, and an extensive collection of legislation from 1235. Users can search for cases from across over 25 jurisdictions including, UK, US, Ireland, Caribbean, Singapore, and New Zealand. JustisOne includes extensive links to full-text material on leading online services, including BAILII, Justis, LexisNexis, WestLaw and more.
SELECT JustisOne:
From the Databases page on the Library homepage, select JustisOne.
SEARCHING FOR LEGAL MATERIALS:
Quick Search
You can type your search text in the open box and click
button to search across Cases, Legislation, and EU Materials. It offers Boolean searching.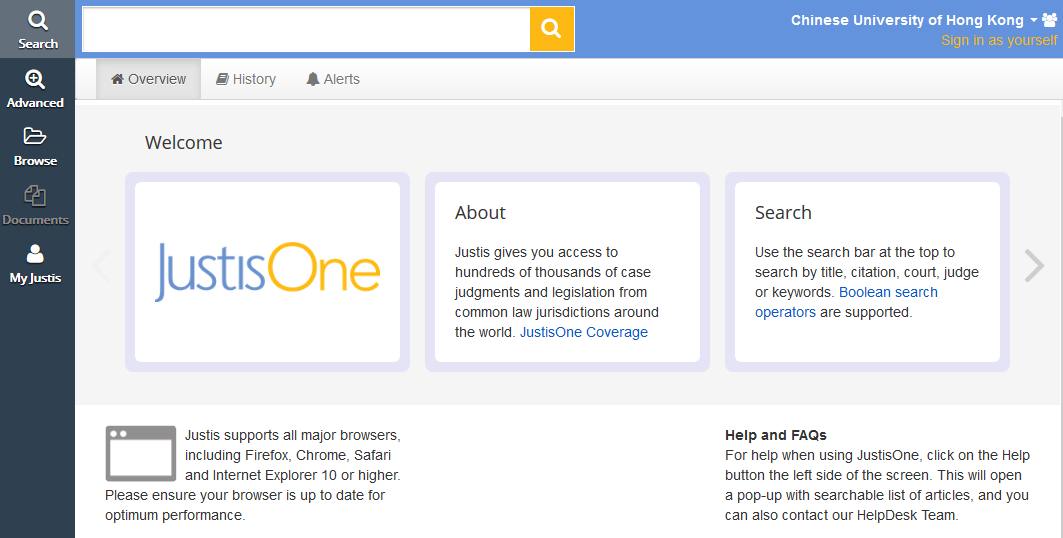 Advanced Search
The Advanced Search screen offers specific search options. You can search by
Click on "All", "Cases", "Legislation" or "EU" to a specific search interface.
Type your search term(s) in one or more labeled field(s) e.g. Title, Citation, Full Text etc.
Press Search.
CASE SEARCHING
1. Enter case citation or party names, then hit search. If you are unsure of the jurisdiction, court name or case type etc, you may check off all boxes on the right by "Select All".
2. Click case title to open the case.
VIEWING YOUR SEARCH RESULTS:
Free full-text judgment may not be available for all cases. Full-text case reports or links to other databases (Lexis, Westlaw etc) will be available.
Search Operators
Search Operators
Retrieves
AND (or a space)
To search documents that contain both words
e.g. medical and negligence or e.g. medical negligence
OR
To search documents that contain any or all of the words
e.g. crime or offence
NOT
To omit any documents that contain a certain word
e.g. negligence not clinical (To find documents containing the word negligence unless they also contain the word clinical)
" "
To search documents that contain words as a phrase
e.g. "Control order"
*
To match any word beginning with a particular set of letters
e.g. child* matches both child and children
?
To substitute one or more letters in the middle of a word
e.g. compl??ent finds complacent, complement and compliment
within x of (or w/x)
To search for one term within a certain number of words (x) of another term
e.g. children within 5 of safeguarding (read: children within five words of safeguarding) or
e.g. children w/5 safeguarding (read: children within five words of safeguarding)
For more details, please visit video guides created by JustisOne.